Plants and plant communities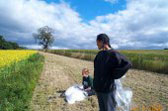 Research in Plants and Plant Communities aims to define those properties of crops and arable plants that would maintain yield and the purity of yield while reducing the environmental footprint of cropping. The work includes basic studies of plant processes such as germination, flowering and nutrition, genetic and physiological variation in model crops and arable plants, the ecology of plant (seedbank) communities, plants as the base of the arable food web and models of geneflow, selection and evolution. The practical output will be combinations of plant traits that can be targeted in crop improvement or encouraged by agronomy. Disciplines and methods include plant physiology, genetics, statistics, modelling, microscopy and field survey.
Research projects
The crops, weeds and the plants of field margins, copses and waysides together carry out the primary production of agriculture. Through the use of sunlight in photosynthesis, they incorporate 15 to 30 tonnes per hectare of new dry matter each year. Plant breeding and improvements in agronomy have increased the total primary production per unit area, but also crucially, the percentage of this total that is generated by the crops alone. In a 10-hectare field, for instance, a 1 m wide grass-weed margin occupies around 1% of the space. The rest is cultivated, and in this area the crop plants themselves process around 99% of the primary production.
The main consequence of this dominance of the crop is a severe depletion of the wild plants of farmland. They are typically referred to as weeds, implying that the group as a whole is a burden. However, only a few are pernicious, and only in certain circumstances. The rest of the 250 or so arable plant species contribute to the aesthetic appeal of farmland and support a food web that has important ecological functions such as breakdown of detritus, pollination, control of insect pests and support for farmland birds. Can these negative effects on wild plants be halted and reversed to a state where fields guarantee food security and support an active and visible food web? We believe so - provided the vegetation is well understood so that it can be managed effectively. This is the purpose of our four research projects on the biology and agronomy of crops and wild plants:
Papers and reports
Squire, G.R., Hawes, C., Begg, G.S., Young, M.W. 2009. Cumulative impact of GM herbicide-tolerant cropping on arable plants assessed through species-based and functional taxonomies. Environmental Science and Pollution Research 16(1), 85-94. Published online 2 December 2008, doi: 10.1007/s11356-008-0072-6.
Species-accumulation curves fitted to multiple-site data (here the two weed-control treatments in the GM crop trials) appear to indicate regional effects of local influences on the weed flora caused by crop management or genotype.
Karley, A.J., Hawes, C., Iannetta, P.P.M., Squire, G.R. 2008. Intraspecific variation in Capsella bursa-pastoris in plant quality traits for insect herbivores. Weed Research 48, 147-156.
A new line of work on our model arable plant, shepherd's purse - a species with many ecologically functional forms, here showing trade-offs in traits that link to herbivory.
Hawes, C., Haughton, A.J., Bohan, D.A., Squire, G.R. 2009. Functional approaches for assessing plant and invertebrate abundance patterns in arable systems. Basic and Applied Ecology 10(1), 34-47 (doi:10.1016/j.baae.2007.11.007).
This functional, as distinct from species-based, approach to arable food webs, was applied to the unique resource of data from the Farm Scale Evaluations, and showed small, systematic effects of GM herbicide-tolerant cropping on food webs.
Caron-Lormier, G., Humphry, R.W., Bohan, D.A., Hawes, C., Thorbek, P. 2008. Asynchronous and synchronous updating in individual-based models. Ecological Modelling (doi:10.1016/j.ecolmodel.2007.10.049).
When modelled organisms are arranged in space, how are decisions made as to which first interacts with which - here is the first evidence of the importance of scheduling methods for emergent properties in IBMs.
Debeljak, M., Squire, G.R., Demsar, D., Young, M.W., Dzeroski, S. 2008. Relations between the oilseed rape volunteer seedbank, and soil factors, weed functional groups and geographical location in the UK. Ecological Modelling 212, 138-146 (doi:10.1016/j.ecolmodel.2007.10.019).
Data-mining techniques, applied to the baseline survey of the Farm Scale Evaluations, found non-trivial patterns in the presence and abundance of weedy oilseed rape, prompting new questions on its role as an impurity.
Iannetta, P.P.M., Begg, G., Hawes, C., Young, M., Russell, J., Squire, G.R. 2007. Variation in Capsella (shepherd's purse): an example of intra-specific functional diversity. Physiologia Plantarum 129, 542-554.
Capsella accessions were differentiated into functional types that differed greatly in terms of flowering time and related phenology and architecture. Types were genetically distinct as defined by SSR markers. The existence of such wide variation within a common weed and ruderal plant confirms the need for functional as well as species-based classifications in arable ecology.
Hawes, C., Begg, G., Squire, G.R., Iannetta, P.P.M. 2005. Individuals as the basic accounting unit in studies of ecosystem function: functional diversity in Capsella (shepherd's purse). Oikos 109, 521-534.
Marshall, E.J.P., Brown, V.K., Boatman, N.D., Lutman, P.J.W., Squire, G.R., & Ward, L.K. (2003) The role of weeds in supporting biological diversity within crop fields. Weed Research, 43, 77-89
Applications and outreach
Biodiversity of farmland Our scientific research on plants and ecological communities is used to enhance farmland biodiversity in collaboration with LEAF, the Game and Wildlife Conservancy trust and SAC.
GM persistence and coexistence Concepts, data and models on plants and plant communities form the basis of much work on persistence and coexistence of GM crops.
SCRI research Findings in this topic are used in the other three main areas in Agroecology - Sustainable systems, Ecological biosafety and Multi-trophic interactions. The work is collaborative with the other two groups in the EPI Programme (Resource Capture and Plant Soil Interactions), and links to projects in Genetics and Pathology Programmes.
Crop improvement Definition of plant traits that bring environmental benefit can contribute to future crop breeding programmes in cereal and potato.
Education The work on farmland plant communities provides a main input to the Living Field project.