Sustainable Systems
The biological mechanisms that drive primary production and other ecological functions should not be compromised: a balance must be kept between what is removed from the field for subsistence and profit and what is left to support the system's essential life forms. We are attempting to define the bounds and conditions in which these life forms can operate so as to ensure the system's long term health and resilience.
.. a habit of mind in harmony with reason and the order of nature ..
Cicero, MT. De Inventione
Research on Sustainable Systems at SCRI is carried out by all three groups in the EPI programme. Studies in eastern Scotland, funded by the Scottish Government, is joint between SCRI, the Scottish Agricultural College, the Macaulay Institute and Biomathematics and Statistics Scotland. Contact for this page: Geoff Squire
The indicator cycle
To help us think about and explain complex systems, they are considered in a cycle of four stages: (1) the outcomes or functions - the things that humans require of the system, (2) the field variables – the things that growers can do to alter the system, (3) the fluxes and pools of energy and matter that are the basis of the system's dynamics and (4) the state indicators that we can measure to assess whether (2) is acting on (3) to achieve (1).
Production land has always had a number of different functions. Food security has always been central, even in decades of overabundance in western Europe. Food security is impossible without ecological resilience, the ability of the soil-plant system to adapt to and recover from necessary periodic disturbances due to soil cultivation and crop protection. Profit and rural livelihood, choice for grower and consumer, landscape and wildlife - all have been and continue to be requirements of a multi-functional agriculture.
Multifunctional systems - examples
The indicator cycle is being applied to two major examples of production ecosystems where multiple functions need to be satisfied in the same farm, field or landscape. The examples are the arable-grass production systems of the coastal regions of Scotland, where we have now established a comprehensive baseline study and research platform (see below), and the production systems in Europe where GM crops are being experimentally trialled and monitored and which we have been studying for more than 10 years. The ecological functions, or outcomes, in each case include the following:
profit and rural livelihood
food security
ecological health of the field
landscape and other aesthetic features
minimal external impact, for example pollution to air and water
choice for producer and consumer.
The central function, on which all others depend, is the ecological health of the field. Several of the functions may appear at first sight to be in conflict, but research is showing that they can be reconciled.
The Baseline - a field site network in east Scotland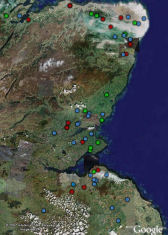 A study began in 2007 to capture a biophysical and economic baseline of over 100 fields in the arable, east of Scotland. (The map shows the field sites as coloured dots.) Further sampling was carried out in 2008 and is continuing in 2009. Baseline measurements included field structure, soil characteristics, crop, seedbank and vegetation, food webs, and agronomic inputs. Fields were chosen from a range of soil types, climatic regions and farming preferences.
Differences between fields are being related to their different histories, particularly their cropping patterns over the past 25 years within which there have been large changes in the proportions of spring barley, winter wheat, oilseed rape and grass in the rotation. Knowledge of the degree to which, for example, a change from spring barley to winter wheat has affected biophysical indicators in the field will help us predict the impact of future change due to global forces and local management. The study is in collaboration with the Scottish Agricultural College (SAC). Read further information on the baseline study.
The experimental field platform - Balruddery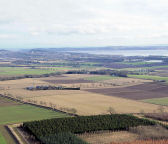 A new experimental research platform is being established at Balruddery Farm for long-term studies of arable sustainability. The aim is to test potential solutions for sustainable agriculture that fulfill a range of functions. The experiment will operate at a near-commercial scale over at least four rotation cycles (>20 years). A sustainable cropping system will be designed based on existing research that optimises inputs, yield, biodiversity and ecosystem processes. The effect of this 'sustainable' system on long-term trends in yield and system health will be tested by comparison with a treatment that tracks current commercial practice.
The Sustainability Research Platform will provide a test-bed for new 'sustainable' crop varieties with traits for enhanced nutrient and water use efficiency, weed suppression, and pest and disease resistance. Visit the platform's web pages for a full account of background, design and measurements or contact Cathy Hawes.
Structures and models
The complexity of the indicator cycle is such that the main factors and their linkages need to be laid out in a formal framework for detailed study. We used Dexi software that takes the form of a decision 'tree', whose branches might include internal health of the field, external impact and profit. In turn, the main branches are subdivided to include all the main factors that affect each branch. The branches may operate in different currencies (for example, money, carbon, organisms). The risk to or impact on the system of a factor (for example, nitrogen mineral fertiliser, herbicide) is defined qualitatively in the various currencies as high, medium or low or by numbers such as 1 = low and 5 = high. Dexi can be used jointly with farming, policy and advisory interests to rank the impacts and assess the trade offs (for example, money against organisms).
Simile software is used to construct a 'compartment and flow' model of the cycles of energy, carbon, nitrogen and other plant nutrients. It is being parameterised for the main types of arable-grass field in the east of Scotland, using the data collected in the baseline study and elsewhere. The model is quantitative and will be used to examine ways to optimise the various functions of the system. To what degree, for example, will it be possible, with minimal reduction in output, to use nitrogen fixation by legumes to supplant nitrogen from other sources or urban wastes and grass leys to raise the carbon content of soils? Predictions from the model will be tested in the experimental field platform at Balruddery and in European projects on sustainable systems.
Integrated pest management (IPM)
IPM is a holistic approach to managing weeds, insects pests and diseases, integrating several strategies to reduce pests below economic thresholds while minimising the use of pesticides, particularly those which have adverse effects on non-target organisms like biocontrol agents and pollinators. The main research areas that feed into practical IPM include plant breeding and genetic engineering for pest resistance, biocontrol, cultural control, conventional pesticide use and habitat management at scales from field to landscape.
IPM is relevant to much of our research on sustainable systems, whether using conventional or biotech crops. Further information is given on the IPM web page.
Latest papers and reports
Mitchell, C., Johnson S.N. Gordon, S.C., Birch, A.N.E. and Hubbard, S.F. 2010. Combining plant resistance and a natural enemy to control Amphorophora idaei. BioControl 55, 321-327.
Hillier, J., Hawes, C., Squire, G.R., Hilton, A., Wale, S., Smith, P. 2009. The carbon footprints of food crop production. International Journal of Agricultural Sustainability 7, 107-118.
Newton A.C., Begg G.S., Swanston J.S. 2008. Deployment of diversity for enhanced crop function. Annals of Applied Biology. (doi:10.1111/j.1744-7348.2008.00303.x)
Hawes, C., McRoberts, N., Squire, G.R., Walker, R.W., Watson, C.A., Young, M.W. 2008. Costing the ecological-economic trade-off for resilient arable production. Crop Protection in Northern Britain, 2008.
Hawes, C., Haughton, A.J., Bohan, D.A., Squire, G.R. 2009. Functional approaches for assessing plant and invertebrate abundance patterns in arable systems. Basic and Applied Ecology. (doi:10.1016/j.baae.2007.11.007)
Caron-Lormier, G., Humphry, R.W., Bohan, D.A., Hawes, C., Thorbek, P. 2008. Asynchronous and synchronous updating in individual-based models. Ecological Modelling. (doi:10.1016/j.ecolmodel.2007.10.049)
Applications and outreach
Other SCRI research
Research in Sustainable Systems is done jointly with the other two groups in EPI - Resource Capture and Plant Soil Interactions. The Scottish Government funded 'Sustainable Crop Systems' workpackage channels the advances in genetics, pathology and human nutrition programmes at SCRI to regional and national scales via collaborations in the Macaulay Institute and SAC.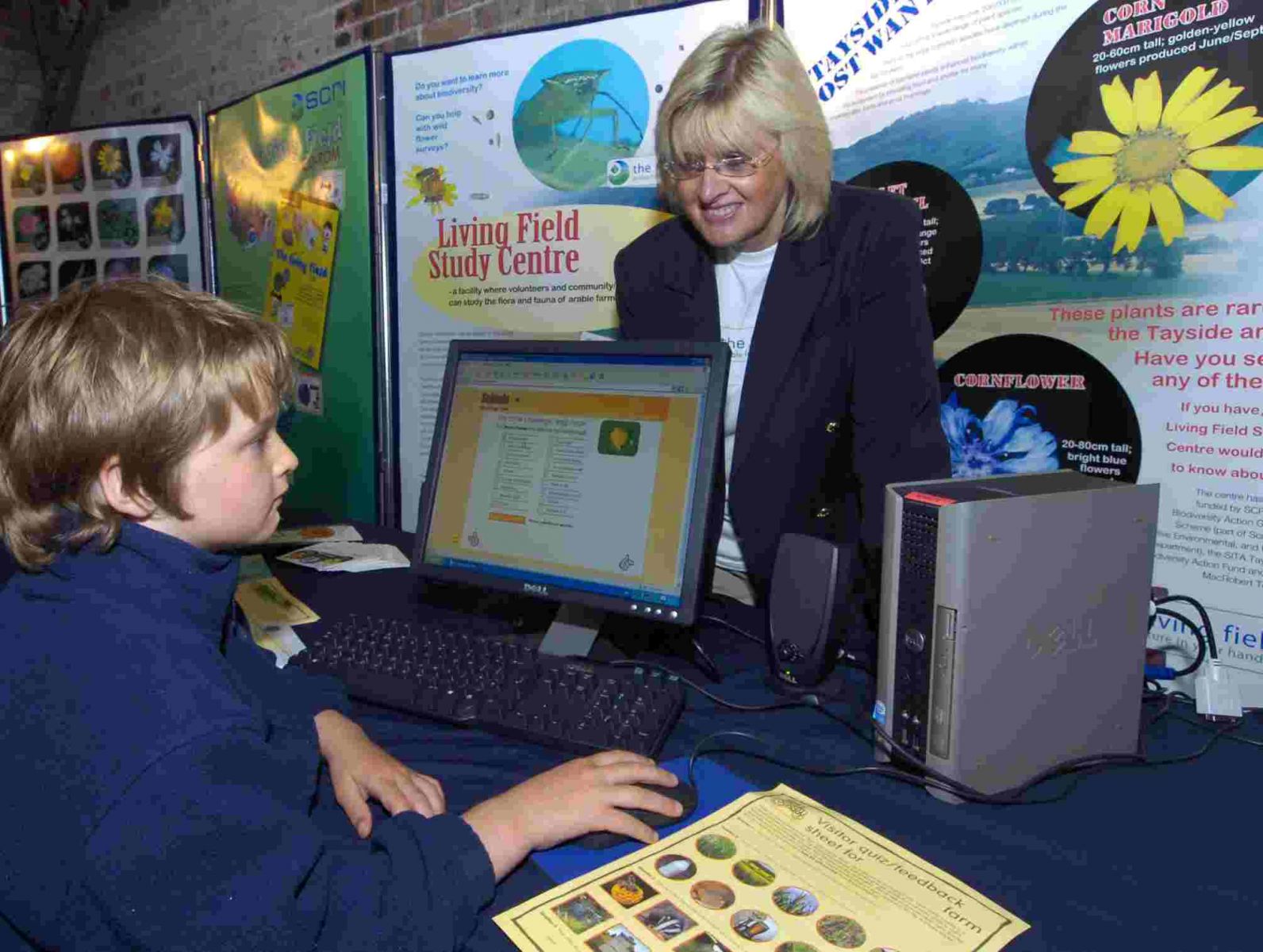 Farming and countryside groups
Formal and informal exchanges occur with a wide range of farming organisations and NGOs. For example, the 'Sustainable Crop Systems' workpackage is developing approaches to crop-weed coexistence with a stakeholder group comprising SAC consultancy, LEAF, the Wildlife and Game Conservation Trust, FWAG, SNH, PlantLife, Scottish Agronomy and others.
LEAF (Linking Environment and Farming) Innovation Centre
Research in sustainable systems will help drive change in arable farming through the LEAF organisation. SCRI's new farm at Balruddery will allow the institute to expand its role and activities as a LEAF Innovation Centre.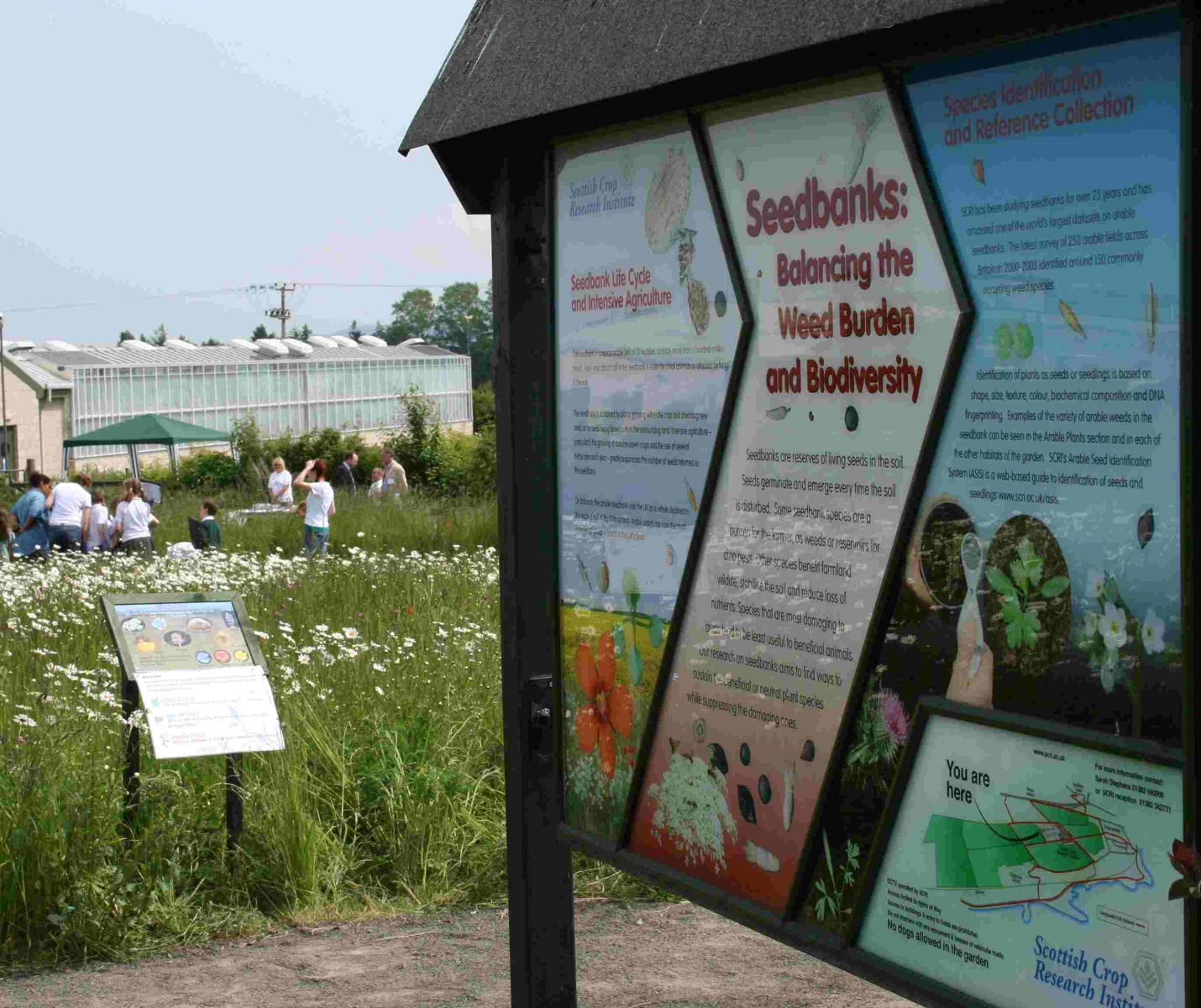 Education and public understanding
The fundamental research in this topic is used in lectures and course material for university education. More generally, our scientific outputs on sustainable systems contribute to the public understanding of farming and environment through permanent notice boards, open days, farm walks and the Living Field project. The tiger beetle - a day-time predator - shown at the top of this page was found and photographed in the Living Field garden.
Policy
Emerging results are already feeding through to policy issues in Ecological biosafety and gene flow in the UK and EU.