New directions in the Living Field project
SCRI's widely respected educational project on the public understanding of science, established with charitable grants of £100k, now provides a range of IT aids, a demonstration garden, all-weather facilities and a study centre. It plans expansion to reach a wider public, while keeping its roots in the excitement of discovery.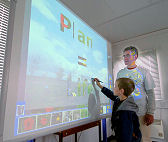 The idea of the Living Field project arose in 2001 out of a series of SCRI roadshows, in which scientists met the public in hands-on demonstration and discussion of biodiversity, gene flow, new crops and biological aliens. We learnt there were many people who wanted to know about the fields, food, crops, soil and ecosystems of the arable lowlands, but that roadshows alone would not reach enough people. The Living Field therefore looked to reach a wider audience. A small grant in 2002 allowed us to appoint a first Living Field officer working one day a week, and then to host the secondment of a teacher to SCRI to plan and develop materials. From then it grew.
Achievements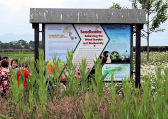 With the help of more than £100k from charitable trusts and public funds, and with the contributions of many people who gave their time, muscle and know-how, the Living Field project now has a range of facilities.
Community Garden open to the public all year since 2004, demonstrates farmland habitats, each of which contains wild, and generally now rare, arable plants that attract insects and birds. Funding: Biotechnology and Biological Sciences Research Council (BBSRC); Perth and Kinross Quality of Life Trust.
CD released in 2005, contains more than 300 pages of high quality images, sounds, games and activity sheets in three sections, designed to complement the curriculum for ages 5-11, and available free as a web download on the Living Field website. Funding: Scottish Education Department; the Mylnefield Trust.
Study Centre open since 2007 for use by study groups from schools and the public, provides hands-on facilities for practical work. Its two linked portacabins, equipped with computers and microscopes, are sited next to the Community Garden on the SCRI farm. Funding: Biodiversity Action Grants Scheme; the Mylnefield Trust.
Beyond the Classroom Initiative developed jointly with teachers, extends and complements the material on the CD by providing direct links from the science at SCRI through ideas and methods for projects in the 9-14 school curriculum; includes polytunnels erected on site for all-weather experiments. Funding: Mylnefield Trust; Excellence in Education through Business Links.
Website open since mid-2008 the Living Field website is where you can find further information on the CD, garden and study centre. Funding: MacRobert Trust.
Why the name?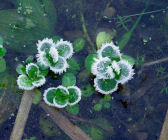 The Living Field project was named in reaction to the notion that agricultural fields are dead industrial deserts. It is true that fields can be killed. They can be poisoned by copper salts or eroded bare by over-tilling. But then they are no longer fields. They are finished, and so is the industry based on them. Most fields are far from dead, and though many are unwell, they can be returned to health by good management, whence they will continue to provide the security of food and the glorious landscapes cherished in the rural lowlands. The Living Field project shows people that fields are teeming with microbes, plants and invertebrates, each of which has a function, contributes to the whole and needs to be supported.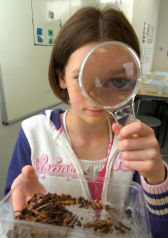 The name also reminds us that people understand better if they feel, see, taste and smell the soil, bugs, crops, plants and creepie crawlies that together make up a field. Looking at pictures of web spinners and hunting spiders in a book in no way lets you sense, as you do when seeing them in real life, their different behaviour and roles. The Living Field project today takes advantage of the latest in electronic communications, but believes in hands-on experience.
Everyone contributes
The Living Field project has another defining feature, which is that many people, each with their own skills, have made their contributions since 2001, often out of hours and from their own pockets. There have been originators, managers, helpers, co-ordinators, botanists, photographers, zoologists, teachers from primary and secondary schools, moth experts, agriculturists, evolutionists, firms that donate things, foresters who put up web cams, graphic designers, web stylists, printers, biophysicists, JCB drivers, IT experts, conservationists, crop-growers, fencers, rangers, people who nail things to poles, people who make toad hotels. All have given their bit since its beginning.
The challenge now is to keep together this human community of the Living Field, while the project expands to gain enough new funding, first to sustain itself over time then extend its influence to new ecosystems and continents!
Contacts, funding, activities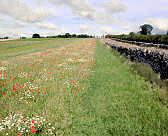 Contacts Coordination, materials and visits - Gladys Wright. Development manager - Graham Begg. Origins and this article - Geoff Squire. The SCRI farm – Euan Caldwell.
Funding The financial support from charities, trusts and public funds (named above) over the years since its beginning has now reached around £100k. In 2006, the Sustainable Crop Systems research project, funded by the Scottish Government, allowed for part-time input of an SCRI staff member to assist in translating the institute's scientific findings to the public through the Living Field project.
Activities In 2009, the Living Field's activities will highlight the heritage of Scotland's farmland plants, food webs and landscape. See us at the Royal Highland Show, Ingliston Edinburgh, 25-28 June 2009. The Living Field website will list events and downloads.

(Added 24 February 2009; text amended 12 March 2009)