Roy Neilson
Soil is a vital resource to humanity and is fundamental to most of the world's food production. Scotland is blessed with some of the most productive soils on earth, so as climate changes and water is depleted in more susceptible countries, food demand from our limited land area will increase considerably. The economic benefits could be enormous, but this will be against several threats. More marginal land with poorer soils will be brought into production. Energy prices will drive lower inputs. Unsustainable farming practices of the past will need to be reversed. Climate change will increase the frequency of extreme weather events.
These challenges form the basis of our scientific research in the Plant-Soil Interactions Programme. A cross-disciplinary team of root biologists, ecologists, molecular biologists, physicists and soil management experts work across SCRI with an aim to maximise the positive interactions between plants and their soil environment. Our major research areas, UK and global research partners, and outreach activities are summarised below.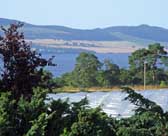 SCRI's environmental science research spans across disciplines to gain a holistic understanding of how plants respond to and modify environmental processes. Scottish Government commissioned research is gaining an in-depth understanding of the environment in arable farming systems and this is being used to advise on policy development in Scotland. These skills have also been applied to emerging issues relevant to the UK and Europe, including the UK's Farm Scale Evaluations, international working groups, IPDM-based alternatives to pesicides and EU-wide studies on the ecological impacts of GM plants.
The environment and the ecology of plants and pests are our key research areas, investigated by a strong multidisciplinary team of scientists in entomology, pathology, plant sciences, vegetation ecology, phytochemistry, mathematical modelling and soil sciences. A major area of interest is integrating processes that occur above ground and in the soil. Research conducted on plant interactions with soil has extended from the understanding of sustainable arable systems to 'green' engineering solutions for slope stabilisation with vegetation.