germination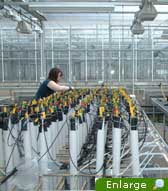 Crop productivity has increased dramatically in recent decades through a combination of improved arable management and breeding of higher yielding crop genotypes.
Further increases in productivity are needed to cope with growing demands for food. The price, availability and high energy costs (carbon footprint) of inorganic fertiliser mean that food production will need to be achieved with fewer chemical inputs and with greater emphasis on a sustainable approach to arable cropping.
New crop genotypes that require less chemical fertiliser and pesticide for a given level of yield could be developed by characterising plant traits associated with reduced nutrient requirements and high pest tolerance.
Contact: Alison Karley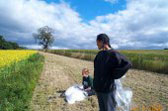 Research in Plants and Plant Communities aims to define those properties of crops and arable plants that would maintain yield and the purity of yield while reducing the environmental footprint of cropping. The work includes basic studies of plant processes such as germination, flowering and nutrition, genetic and physiological variation in model crops and arable plants, the ecology of plant (seedbank) communities, plants as the base of the arable food web and models of geneflow, selection and evolution. The practical output will be combinations of plant traits that can be targeted in crop improvement or encouraged by agronomy. Disciplines and methods include plant physiology, genetics, statistics, modelling, microscopy and field survey.