public understanding of science
SCRI's widely respected educational project on the public understanding of science, established with charitable grants of £100k, now provides a range of IT aids, a demonstration garden, all-weather facilities and a study centre. It plans expansion to reach a wider public, while keeping its roots in the excitement of discovery.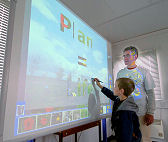 The idea of the Living Field project arose in 2001 out of a series of SCRI roadshows, in which scientists met the public in hands-on demonstration and discussion of biodiversity, gene flow, new crops and biological aliens. We learnt there were many people who wanted to know about the fields, food, crops, soil and ecosystems of the arable lowlands, but that roadshows alone would not reach enough people. The Living Field therefore looked to reach a wider audience. A small grant in 2002 allowed us to appoint a first Living Field officer working one day a week, and then to host the secondment of a teacher to SCRI to plan and develop materials. From then it grew.